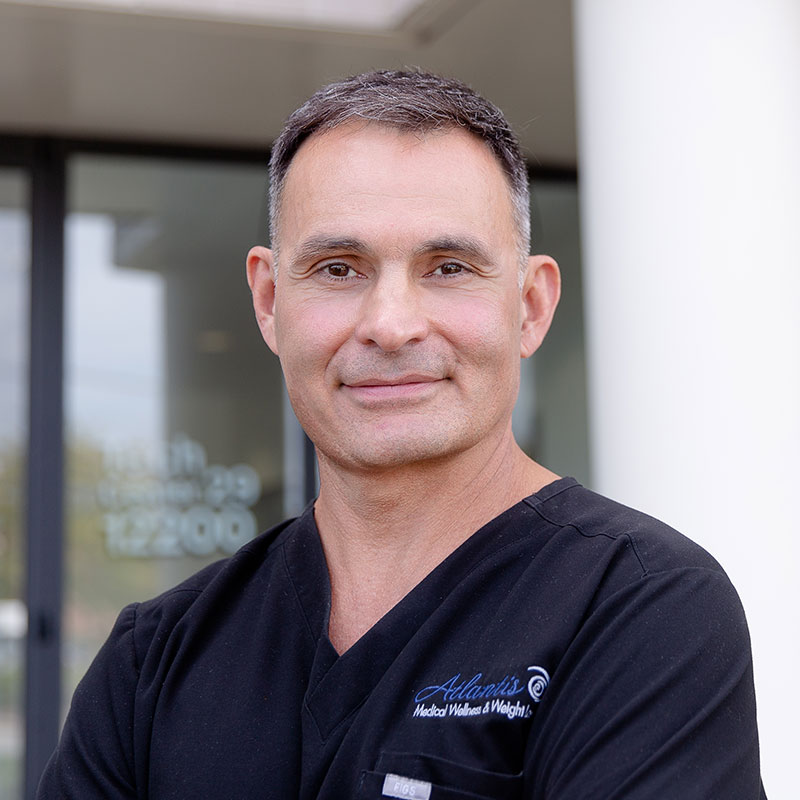 "Proper nutrition, exercise, and well being are key to maintaining your health. I live what I preach and tell it to you like it is. Working with my patients, we create a plan to help them live and look better longer."
-Benjamin González, MD
Dr. González's Medical Background
Benjamin González, MD, better known as "Dr. G", is Medical Director of Atlantis Medical Wellness Center. He has been on the leading edge of medicine since graduating from the University of Arizona College of Medicine. He is a Board Certified physician with a background in Molecular Genetics and Nutrition. Dr. González is renowned for his expertise in Clinical Nutrition with a focus on Exercise Nutrition and Weight Management and is trained in the advanced techniques of Hormone Replacement Therapy, Aesthetic and Age Management, Integrative, and Functional Medicine. He has multiple certifications in advanced laser surgery, laser assisted and ultrasound-assisted liposuction and is a Member of the American Society for Laser Medicine and Surgery. He has been practicing these techniques for over 10 years and teaches his techniques to other practitioners. He is also a member of the Montgomery County Medical Society where he serves as a committee member and a member of the Obesity Medicine Society and the American Society of Bariatric Physicians (ASBP).
Dr. González's Military Background
Dr. González spent 15 years as an Emergency Medicine staff physician at Walter Reed Army Medical Center and Associate Professor at Hershey Penn State Medical Center teaching his craft to other physicians. His love for helping others led him to serve 24 years active military service, including a year-long tour in Iraq as Chief of the busiest trauma center during the beginning of Operation Iraqi Freedom. He has earned multiple awards including The Bronze Star and Teacher of the Year at Penn State Hershey Medical Center.
Dr. González Teaches Physicians
Dr. González continues to teach other physicians on the subjects of Emergency and Trauma Care, Functional Medicine, Nutrition Care from the Physician's Perspective, Laser Surgery Techniques, Weight Management, and The Truths and Myths of Supplements and Nutrition in Diet.
Dr. González's Approach and Personal Life
Dr. González believes in the overall holistic approach to maintaining your health that includes proper nutrition, exercise, and well-being. He practices what he preaches by participating in triathlons, foot races, Kettlebell Competitions and holds 1st Degree Black Belts in Karate and Tae Kwon Do and 2nd Degree Black Belt in Kung Fu. He recently challenged a 25-year old Cross Fit Instructor to a fitness duel. Watch the video here. His caring and gentle treatment has earned him a reputation as a physician who truly cares about his patients' overall health.
A gifted speaker and down to earth communicator, Dr. González has been featured on television and radio. His books, "The hCG Protocol: A Critical Review," "Nutrition and Your Surgery" and "Food Fight! A Physician's Guide to Diets" are due to be released in October 2015.
"Dr. G", as he is known by his patients, plays the violin and piano and is an Instrument Rated private pilot. When asked his favorite passion? He says…."My Family."