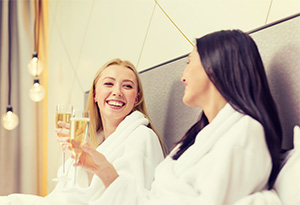 Free Ladies Skincare Party – Sept. 24, 2015
Ladies Skincare Party hosted by Lily Hall & Shirlita Gonzales
Sept. 24, 2015  from 6PM-8PM
You and your friends are invited to an evening of facial demonstrations and refreshments. During this Ladies Night, we will talk about the 3 approaches to skin care (hydration, protection and treatments)! Please arrive at 5:45 PM for check-in and refreshments.
Bring your Mom, friends and co-workers. The more guests the better. It is a Ladies night after all!
Bring 5 or more friends and you'll receive a FREE Galvanic Facial Treatment with Mask ($95 value). Each guest can only be claimed once.
Special Guest: Our Medical Esthetician Rosa will be answering your individual skincare questions.
Please RSVP here or call (301) 622-2722 as their are limited spaces.