Chemical Peel Facials Silver Spring, Maryland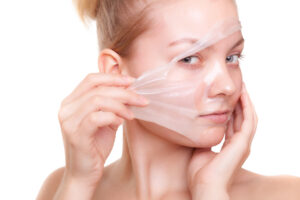 Getting a chemical peel facial in Silver Spring, Maryland, is a great way to give yourself the smoother, glowing skin you deserve – and Atlantis Medical Wellness Center offers multiple options for facial peels.
We always want better skin, but when we look at the options for glowing, youthful skin, the different treatments can be overwhelming. Botox, and surgeries are effective and can yield remarkable results, but they're intensive and not for everyone. While botox can work wonders, some people aren't ready to take such a major step. Others are just plain turned off by needles and more involved skin rejuvenation processes. Fortunately, chemical peel facials can yield amazing results without having to go under the knife or needle.
How does it work?
A chemical peel is like a facial, except it uses a specially-formulated chemical solution. Unlike ordinary facials, this process peels away aged or damaged skin that's hiding the smoother, healthier skin beneath it. A proper medical-grade peel is virtually non-irritating (although some patients report a slight tingling sensation) and it's even safe to apply makeup right after your peel is complete. Unlike botox or other more intensive processes, a chemical peel only takes a few minutes, and you're free to continue on with your day with fresher, softer, and smoothed-out skin.
Chemical peels can be repeated several times over the course of a year to ensure the best results. In fact, more recent studies have indicated that the more peels the better – which isn't much of an inconvenience when you consider how fast the process is for immediate results. Whether you're trying to smooth out some wrinkles, or just want to be proactive about damaged skin, a chemical peel is a great way to give yourself the great skin you deserve, no needles required. If you're looking for great skin or want to repair some damage without resorting to botox, getting a chemical peel facial in Silver Spring, Maryland is a quick, easy, and painless option that delivers real results.
What are the results?
After a facial peel, you'll see immediate results, and the results speak for themselves. Facial peels can smooth out wrinkles, and soften your skin. They'll also peel away any blemishes or sun damaged skin, leaving you with glowing, flawless skin. Chemical peel facials can also improve light scarring and help with certain types of acne, and with regular chemical peels you'll see long-lasting results that continue to improve your skin.
Because a chemical peel facial is non-invasive and requires little preparation or recovery time, it's easy to get a chemical peel and continue on with your day without missing a beat. These peels are rarely irritating, and typically complete in a matter of minutes – a small price to pay for the amazing skin you deserve.
Who should get a chemical peel?
Chemical peels are great for many different skin types. People with acne can greatly benefit from the treatment, as can people with hyperpigmentation, other blemishes, or sun damaged skin. Chemical peels are amazing tools to slow the aging process and help lessen the appearance of wrinkles. They are good for giving you a beautiful glow, make skin appear younger, and overall health of the skin. By removing old things from the surface of your skin, the treatment will peel off to reveal a fresh and smooth layer of skin underneath. 
Do chemical peels hurt? 
Chemical peels may feel daunting because the process has a recovery period and because your skin will peel. They do not hurt, though. Some may find chemical peels to be slightly itchy or irritating, however there are creams that can soothe this while your skin peels. The treatment will not hurt even those with a low pain tolerance and the minimal time it takes for your skin to peel is completely worth the amazing results. Feel free to call Atlantis Medical Wellness Center to speak with someone about getting a chemical peel in Maryland today. We can go over the steps we will take throughout the process and what you can expect from getting the peel. 
Can I get a chemical peel right before an event? 
You will want to give your time to settle down and heal after getting a chemical peel. We do not recommend getting one right before you have an event — instead give yourself a week or two to have the desired result. Give Atlantis Medical Wellness Center a call to go over the details of your event with us today so that we can figure out the perfect amount of time to get your treatment before your event. That way you can have the beautiful benefits of the chemical peel, but also be certain that the peeling process and redness will be healed. You also want to make sure to get your chemical peel well before going out into the sun, so it is not a good idea to get it immediately before a beach trip. You should always plan your peel to be at a time that will be convenient with your schedule. The sooner you give us the call the more likely we can fit you in at the perfect time for your calendar. 
Contact Atlantis Medical Wellness Center Today
If you're interested in getting a chemical peel facial, look no further than Atlantis Medical Wellness Center. We provide personalized service to give you high quality, medical grade facial peels that deliver immediate results. We can answer any questions you may have and talk you through the entire process. 
Why wait for better skin? Reach out to Atlantis Medical Wellness Center for a chemical peel facial in Silver Spring, Maryland. We can book you as soon as you want to begin seeing incredible results with your skin. Don't hesitate — you are going to be so happy you came to visit us! So happy that you will wish you came even earlier.