Facial Filler Treatment Silver Spring MD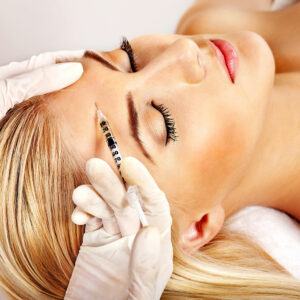 At Atlantis Medical Wellness Center, our medical professionals offer a variety of non-surgical cosmetic treatments via a facial filler treatment in Silver Spring, Maryland. One of our most popular facial fillers is Botox. Just a few injections a couple of times throughout the year can take years off our face, adding better contours and fewer lines and wrinkles.
While many of the patients that come to see us are considering Botox as a facial filler treatment at our Silver Spring, MD practice, there is sometimes a hesitation to go through the procedure, especially during the summer months, because of a concern that exposure to the sun can have a negative impact on the treatments. This is often due to medical instructions that doctors give patients after they have received an injectable treatment to avoid direct sun exposure. But the only reason why this directive is given is because sometimes exposure to direct UV rays can cause the minor swelling that can occur after a treatment to worsen. However, being in the sun after receiving Botox treatments does not affect the injection results.
There can also be confusion between Silver Spring, MD facial filler treatment and a dermal filler. Like Botox, dermal fillers are also used to help reduce the appearance of lines and wrinkles, as well as plump up cheeks, lips, and hands. One of the main active ingredients in many dermal fillers is hyaluronic acid. Unlike dermal fillers, Botox does not contain hyaluronic acid. This acid binds to the body's neuro-receptors, which can lead to a degrading of the dermal filler from exposure to UV rays.
Although there are differences between treatments of dermal filler or facial filler treatment in Silver Spring, MD and how the sun affects the ingredients of the treatment, it is still important to minimize sun exposure even with a facial filler like Botox:
Make sure to avoid any sun exposure for approximately two weeks following a dermal filler treatment. This is particularly important if you have experienced any mild bruising from the treatment.

If you are going to be spending any time outdoors where you could be exposed to UV rays, wear a sunscreen that contains a high SPF. If possible, you should also wear a hat to help minimize that exposure.

Adding a good quality antioxidant serum or cream to your daily skincare routine can help fight free radicals that cause the skin to age.
For those patients who really feel they need to have that "sun-kissed" look, consider using a spray tan method. Just make sure there is at least one day between the dermal filler treatment and the application of the spray tan.
If you would like to learn more about facial filler treatment Silver Spring, MD patients recommend from Atlantis Medical Wellness Center, call our office to set up a confidential consultation and learn what treatment options may be the best ones for you!
---
Client Review
"I have been going to see Dr. G for 10 years. Dr. G is amazing, super knowledgeable and an complete artist with his work. In addition I have referred a number of clients to his Medi Spa all have been 100% happy and of course look 1000% Better, younger, happier and are healthier! Make your appointment and enjoy your new self."
Dede