Medical Nutrition Silver Spring, MD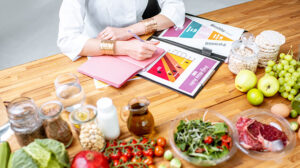 Many people in Maryland have heard about medical nutrition but are not quite sure what it is. Medical nutrition is an evidence-based medical approach that is used to treat chronic conditions, including Type 2 Diabetes and Chronic Kidney Disease (CKD, by using a personalized nutrition plan developed specifically for the patient. The following will provide an overview of this type of therapy. For more detailed information about medical nutrition Silver Spring, MD patients trust, call Atlantis Medical Wellness Center.
What Benefits Does Medical Nutrition Offer?
Diet is a critical part of a patient's health. Everything we put in our bodies is supposed to provide the nutrients that both our bodies and our minds need in order to function properly and clearly. A person's diet impacts every aspect of our lives, including how we feel, the way we look, how well we sleep, how we think, and how we move. Benefits of medical nutrition in Silver Spring, MD include:
Medical nutrition is evidence-based, using years of scientific studies and data that shows how diet affects a patient's body.

Medical nutrition lowers a patient's blood pressure in patient's who suffer from hypertension. Scientific research shows that a patient suffering from hypertension will have significant reductions in their diastolic and systolic blood pressure after just six months of medical nutrition therapy.

Medical nutrition therapy has a positive impact in patients with diabetes. The therapy not only reduces A1C levels but can also delay or even prevent dialysis for patient suffering from CKD.
Steps of Medical Nutrition
The first step in medical nutrition therapy begins with a complete and comprehensive assessment of the patient's medical history, individual preferences, and needs. The patient will be provided an individualized nutrition plan for healthy eating. The patient will also work with one of our nutritionists to identify where changes in lifestyle need to be made and how to go about making those changes.
Patients who follow their plan will typically see a weight loss of one to two pounds per week, lower cholesterol levels and improve blood sugar by lowering A1C levels for patients with diabetes.
In most cases, health insurance will cover medical nutrition therapy for the following conditions. Please check with your own insurance company to confirm if the condition you have will be covered:
Diabetes

Eating Disorders

High Blood Pressure/Hypertension

High Cholesterol/Hyperlipidemia

Irritable Bowel Syndrome, Celiac Disease

Kidney Disease

Please be aware that this list does not cover all possible covered conditions

Prediabetes

Therapeutic weight loss
If you would like to learn more about how medical nutrition in Silver Spring, MD can help you live a healthier and better life, contact Atlantis Medical Wellness Center to schedule a consultation with one of our dedicated nutritionists.
How We Can Help
 As we grow older, it becomes necessary to change what we put in our bodies as our dietary needs often change, depending on our health. Older adults often become more susceptible to chronic health conditions that we don't have to worry about when we are younger. One of the best options for addressing many chronic conditions in Silver Spring, Maryland is medical nutrition therapy.
At Atlantis Medical Wellness Center, we work with patients to develop their own personalized nutrition plans to help treat chronic conditions such as COPD, diabetes, osteoporosis, and more. The following is a brief overview of how medical nutrition in Silver Spring, MD works. For more details, call our office to schedule a consultation.
What Is Medical Nutrition?
At our Silver Spring, MD medical nutrition therapy practice, a registered nutritionist will work with you to come up with a personalized nutrition program that will address the chronic condition or conditions you may be suffering with. This is done through discussion and counseling.
During the patient's first visit, our nutritionist will evaluate their medical history and symptoms to determine dietary diagnosis and treatment plan needed. The nutritionist and patient will also develop what the patient's goals are.
During subsequent visits for the patient's medical nutrition in Silver Spring, MD the nutritionist will monitor the patient's progress and health changes, as well as evaluate if any changes are needed to the patient's diet plan.
What Conditions Can Silver Spring, MD Medical Nutrition Therapy Help?
While people of any age can benefit from medical nutrition therapy, it can really make a great difference in the lives of older adults. Patients suffering from the following conditions may benefit from medical nutrition therapy:
Cancer

Chronic kidney disease

Diabetes

Heart disease

Osteoporosis
What Are the Benefits of Medical Nutrition Therapy?
There are many physical and emotional benefits that medical nutrition patients enjoy. Some of these benefits include:
The slowing down or reversal of symptoms from a chronic condition

Prevention of diseases or other chronic conditions

Increase of energy and activity level

Weight loss

Decrease in the cost of healthcare costs
It is important for patients to be aware that medical nutrition therapy is not supposed to replace any mediations or treatments for their chronic conditions that have been prescribed by their physician. Instead, nutrition therapy acts to complement these medical treatments and recommendations. The goal of medical nutrition therapy is to get the patient to the point where they will hopefully no longer need medications, but these decisions should only be made by the treating physician and not by the patient.
Call Our Office for Details
If you would like to find out how medical nutrition Silver Spring, MD patients recommend may benefit your health, contact Atlantis Medical Wellness Center to schedule an appointment and learn all the services our clinic offers.
Client Review
"Coming here was the best decision that I have ever made! Everyone is extremely professional, the service and amazing, and the medical director – Doctor G – has such a personalized approach to medicine. I am a concierge patient, get botox treatment, and have had fabulous success with the weight loss programs!"
Beverly C.