Athena VLCD Protocol
The Athena Program should not be thought of as a diet, rather as a temporary bridge to improved metabolism. In general, diets tend to have variability that does not address a change in metabolism.
The purpose of the Athena Program is to improve metabolism, detoxify the body, and educate the patient on how different foods affect the body, so that they can maintain their weight loss after the program has ended.
Dr. Benjamin Gonzalez has designed and developed metabolic repair programs for safe and rapid weight loss.  The primary purpose is to keep the weight off after it is lost.   
These programs are gender specific and tailored based on the individual's lab results and Metabolic Code Assessments.  The program is short – 39 days – and strict, yet it is simple. It is not for every patient. The Athena Program, however, when administered under a doctor's supervision, is an effective and safe method of weight loss and metabolism improvement for individuals who otherwise cannot lose weight.
Your VLDC weight loss experience at our MD center will be customized to best help you meet your weight loss goals. Success rate rivals that of one of the world's best known VLDC programs at UCLA Health Center.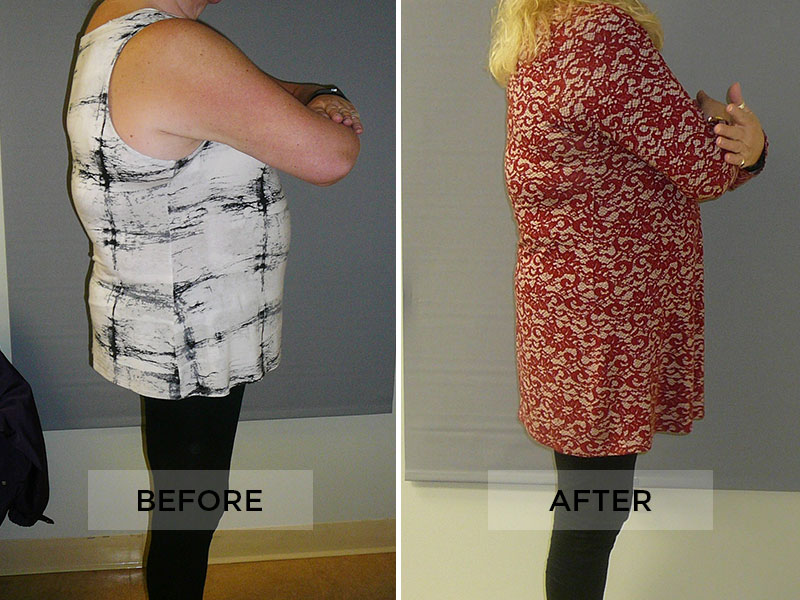 The Athena VLCD Protocol is a medically supervised program to safely and rapidly improve your metabolism in a short period of time.
Before/After
Frequently Asked Questions
What is the Athena VLCD Protocol?
The Athena VLCD Protocol is a medically supervised program to safely and rapidly improve your metabolism in a short period of time.
Is the VLCD protocol safe?
The VLCD Protocol is a safe and effective method of weight loss and metabolism improvement for those individuals who cannot otherwise lose weight. The protocol should be administered by a physician.
How does it work?
In the protocol, peptides and individualized supplements are used each day and combined with a strict, very low-calorie diet (VLCD) of 700 to 800 calories. This combination acts as an appetite suppressant and allows for the body to tap into and utilize the stored fat as a source of energy and nutrition. Peptides and specific supplements play a vital role in providing nutrients during the program.
Is it safe for people with diabetes and other health conditions?
Under the direct supervision of an experienced physician the protocol has been shown to improve chronic diseases, decrease the need for medications, and in some cases, even eliminated the need for medications. Diabetes, hypertension, elevated cholesterol are among some of the disease processes that this has worked for.
Do I need special foods for the protocol?
There are no special foods required for the program. You may eat organic proteins, fruits, and vegetables on the provided food list. All foods should be 100 percent organic.
What are the benefits of following this diet?
Sustained weight loss and an improved change to your metabolism over a short period of time. The decreased need for medications is another benefit.
How much of a commitment is the diet?
The VLCD Protocol requires a 100 percent commitment from the patient during the entire duration of the program. This improves long-term success. 
What type of results can I expect to see? How soon?
Patients on the Athena VLCD Protocol can expect, on average, a weight loss of a half-pound a day. At the conclusion of the program, most patients experience an average weight loss of 15-20 pounds that is sustained.
What are some of the side effects?
Infrequently, some patients experience temporary side effects of hunger without starvation, dry skin, and constipation. During the fifteen years I have been administering the program to my patients, there has not been one single, long-term, medical side effect.
VLCD Protocol Video Gallery
---
Client Review
"Coming here was the best decision that I have ever made! Everyone is extremely professional, the service and amazing, and the medical director – Doctor G – has such a personalized approach to medicine. I am a concierge patient, get botox treatment, and have had fabulous success with the weight loss programs!"
Beverly C.